A Point of Banking (POB) machine provides businesses – those that are no longer welcomed by MasterCard and Visa due to the products and services they sell, those that haven't established themselves yet, or have no credit – with a way to accept cards without a merchant account. Merchants that want to accept and process credit card payments need merchant accounts. Unfortunately, smaller, high-risk merchants and those with bad credit have a hard time getting approved for a traditional merchant account. The only way they can accept cards is to move forward with a high-risk merchant account.
POB in Banking: Cashless ATM
Another way to understand POB in banking is through a physical terminal. A POB looks like a standard ATM machine, but it is better defined as a cashless ATM because it doesn't dispense any cash.
So how do POB machines work? Users swipe their cards and punch in PINs, and then the customer receives a receipt. The shopper then takes the receipt and gives it to a retailer's employee to pay for whatever products or services they want from that store. The receipt the customer is given can only be used at the place where it was issued. After the transaction is completed, the customer gets whatever change they may have in cash.
For example, if a customer requests $40 from the POB machine and only spends $12 at the store, the merchant would give back $28 in change. The customer however will pay a fee for this type of transaction, that normally is around 3%. In this example, the customer will see in their bank or card statement a value of $41.20. The merchant, on the other side, will receive a $40 dollar deposit in his/her account. So this means that it is the customer and not the merchant who pays the processing fee.
What is POB in Banking & How it Benefits Merchants & Customers
When customers use debit cards in traditional card processors, merchants foot the bill for the processing costs. However, with POB terminals, customers get the convenience of using bank cards and getting cash back when making purchases and merchants appreciate them because the fee paid by the cardholder also covers the cost of processing ACH transactions. Therefore, merchants get to accept debit card transactions without paying for the processing.
With a Point of Banking terminal, merchants not only get to choose how much money a customer can take out in $5 and $10 increments, they also get to push their sales. There is no doubt that merchants can significantly boost their sales by incorporating point of banking (POB) terminals into their payment systems.
These advanced electronic systems enable customers to make purchases using their credit or debit cards, even when they have insufficient funds in their bank accounts (NSFs: non-sufficient funds as they are called). By offering this option, merchants attract a wider range of customers who may otherwise be deterred by financial limitations.
POB machines often offer additional attractive features both for customers and merchants. These attributes include language selection, on-screen receipts, customer surveys, and they can even be utilized at merchant locations or mobile events. The use of POB machines has greatly expanded the reach of banking services and improved accessibility for individuals who may not have access to traditional bank branches.
Moreover, POB terminals streamline the payment process, reducing transaction time and enhancing customer convenience. This efficient method eliminates the need for cash handling or manual check verification, safeguarding against errors and potential fraud.
Additionally, many POB systems record transactions and have real-time reporting capabilities, which provide merchants with valuable information, such as purchase times, products purchased, and average ticket amounts. This makes it even easier for merchants to adjust their businesses based on customer buying habits, and to continue to take card payments without the hassle of setting up merchant accounts. By leveraging this information, businesses can tailor their marketing strategies and enhance customer satisfaction, thereby bolstering sales figures and establishing a loyal customer base.
POB machines provide several benefits for customers too. This portable terminal is capable of processing debit and credit card transactions, allowing customers to withdraw cash, make deposits, transfer funds between accounts, and even pay bills, all in one place.
This technology eliminates the need for shoppers to carry cash or write checks, reducing the risk of theft or loss. Moreover, point-of-banking terminals often provide instant transaction receipts through email or SMS notifications, enabling customers to track their expenses easily. Overall, implementing POB terminals proves to be a lucrative investment for merchants seeking to maximize profits and optimize operational efficiency in today's competitive market landscape. At the same time, they provide benefits for customers allowing for a different way of payment away from traditional ATMs or credit card processing solutions.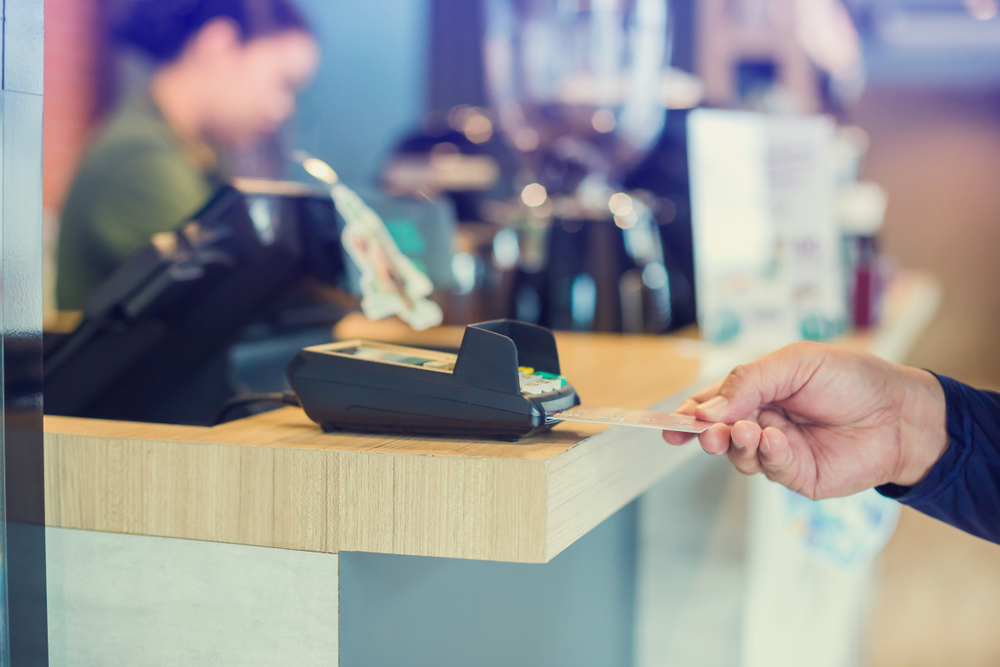 POB Account: Further Benefits
For merchants, the setup and use of a POB terminal is simpler than installing an ATM machine because it is small, compact and takes up inches on a counter. To use it, merchants simply have to plug it into an electrical outlet and connect it to a phone line. Most importantly, unlike a traditional ATM, it doesn't need its own phone line. A separate line is unnecessary since transactions take only a couple seconds. After the machine is hooked up, merchants need to follow the instructions that come with the machine.
There is a common misconception that merchants have to keep extra cash on hand at their businesses' to meet customers' demands for cash back. When merchants opt to move forward with this solution, they need to prepare to be able to make change for several $50, $75, or $100 transactions per day. Merchants who know their business operation, their usual customers, and transaction volumes will be able to plan accordingly. In fact, merchants who offer cash back to their customers are likely doing so because it is a highly profitable program. Not only does having enough cash boost customer satisfaction and loyalty, but it also reflects positively on the overall image of the business, as being well-prepared financially indicates good management and attention to detail.
One further advantage of POB machines is that the merchant's risk of chargebacks, fraud, and refunds are almost completely eliminated because customers must enter their own unique PIN codes to complete transactions. In general, banks consider chip and PIN transactions less risky than other types. With fraud in payment processing on the rise, it has been proven that less fraud is committed with four-digit codes, so using this type of payment solution can help put customers at ease.
To sum up, Point of Banking (POB) machines are cashless ATMs that enable customers to use their debit or credit cards with PIN access to pay for products or services at a variety of businesses. These machines offer convenience to both customers and merchants as they eliminate the need for physical cash handling while providing real-time transaction validation.
Still have questions?
If you can't find the answer you're looking for, please reach out and chat with our team.
Get in touch