As services go, offering financing options to consumers provides businesses with one of the most effective tools for increasing revenue. And thanks to the variety and availability of lending programs that exist to meet the needs of different consumers, businesses both large and small have access to financing suitable for most of their current and future customers. Local businesses that are competing with large-scale department stores can also benefit from consumer financing programs, which has been shown to improve acquisition, retention, increase foot traffic, build brand awareness, and generate customer loyalty – which can dramatically impact repeat business.
In most common scenarios, consumer financing provides your customers with three levels of funding: primary, sub-prime, and no-credit-check financing.
Primary Programs
Primary consumer finance programs are defined as financing options that are a consumer's "first look." These are the offers a customer has access to prior to being presented with secondary (or sub-prime) options. Primary offers include the most attractive loan terms, and have the additional benefit of decreased merchant fees, and lowered risk for the lender. Although primary programs are generally the best option for both the merchant and the customer, approvals are much more difficult, with providers typically approving only those individuals with good or excellent credit. As a result, a smaller, much less broad portion of the consumer base will have access to first look offers, and merchants will often require additional offers like sub-prime, and tertiary lending, in order to supplement sales through their consumer financing programs.
Sub-Prime Programs
Depending on the lending provider, sub-prime financing can also be a no-risk solution, with many non-recourse loans available to merchants. Since the majority of those customers are likely to fall into the approval criteria for sub-prime financing, these programs meet the needs of a much larger group of individuals. In some cases, this group can account for nearly 80% of a business's respective consumer base.
While the approval for "second look" financing is less stringent, customers will have to take a few extra steps to fulfill the requirements of the lender, which can include providing supporting documentation, such as proof of income, proof of residence, and even personal referrals.
No-Credit-Check Programs
No-Credit-Check financing is a special type of lending program with no credit requirement; this program is intended to provide consumers with damaged or unestablished credit histories the opportunity to utilize consumer financing despite maintaining a low credit score. While there are some primary and second-look consumers that utilize this option to reduce inquiries on their credit report, these financing options are most effective for those consumers trying to establish or rebuild credit. While no-credit-check financing is more expensive than other programs, lenders often provide the merchant the ability to offer a 90-day same-as-cash option in order to mitigate, or offset, the additional cost to the consumer.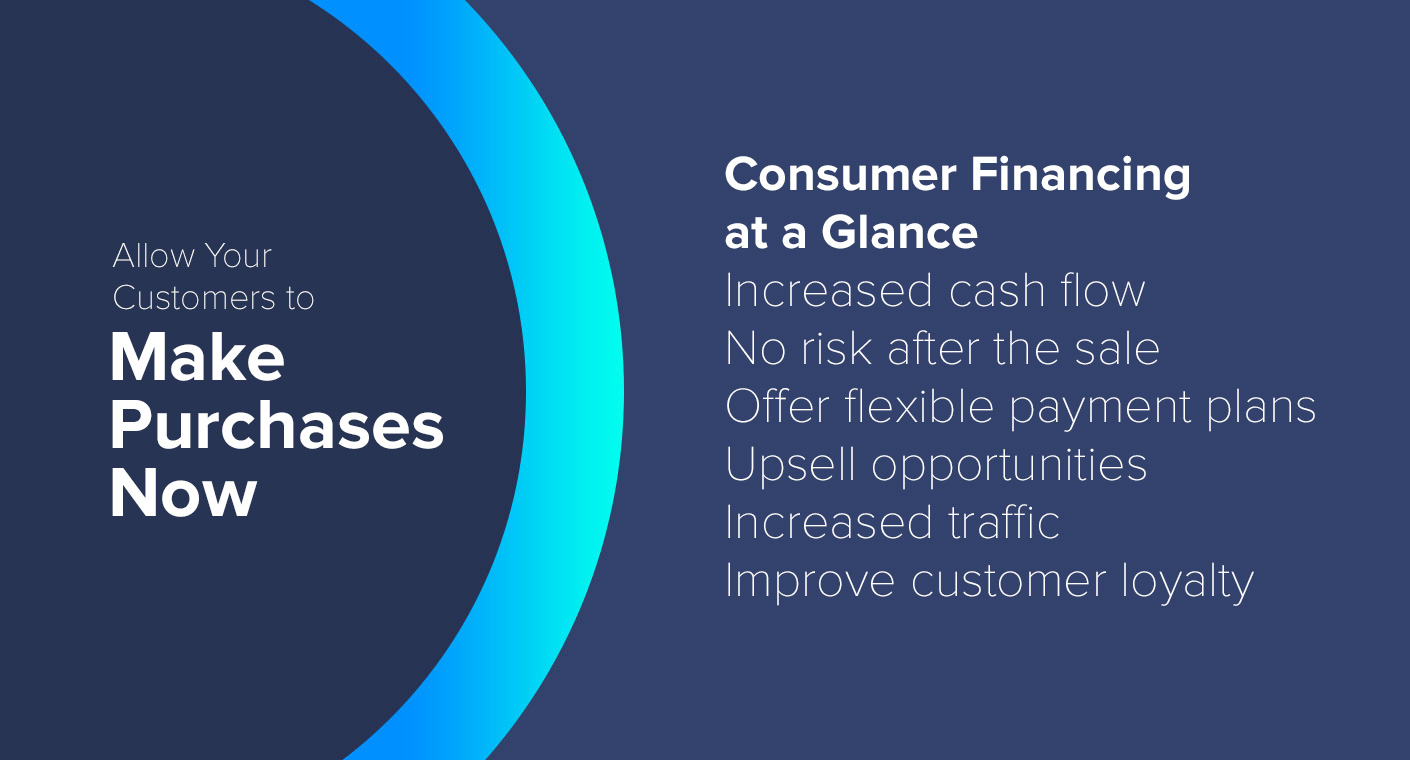 Keeping it Simple
Once a business has matched the right type of lending program with their customer, the financing providers take over. Most lenders handle collections, billing and payments, and document signing on their own, leaving the business owner to operate without the overhead that's required to maintain an in-house financing team, and free of the long-term challenges of billing the client, issuing payment reminders, and sending the account through a collections process if a customer's account becomes delinquent.
With most of the heavy-lifting being done by the consumer financing providers, business owners can simply enjoy the benefits of offering financing options to their customers, while mitigating their own risk, and improving their revenue.